TIMES JAZIRAH, MALANG – Malang, a captivating city nestled in East Java, Indonesia, is renowned for its captivating landscapes and vibrant culture. While many travelers flock to Malang to immerse themselves in its rich traditions and awe-inspiring natural beauty, the city also boasts several remarkable destinations that transport you to distant corners of the world.
In this article, we will delve into some must-visit places in Malang that offer a unique taste of international cultures and experiences. From Dutch windmills to Japanese serenity, Malang's world-class destinations beckon visitors to explore these immersive attractions right in the heart of Indonesia.
Whether you're a local resident or a traveler from afar, Malang's international-themed spots promise a delightful journey into different global cultures, all within the city's boundaries.
4 Must-visit Destinations in Malang that Offer a Taste of Foreign Lands
1. Santera Delaponte: Dutch and Korean Vibes
Located in Pujon, Desa Pandesari, Santera Delaponte is a favorite among tourists seeking an international experience in Malang. This attraction features miniature replicas of Dutch windmills, adding a touch of the Netherlands to the Indonesian landscape.
Additionally, Santera Delaponte offers Korean-themed selfie spots, complete with Korean-style costumes available for rent. The area even boasts Korean-inspired flower displays, making it a delightful fusion of cultures.
2. Umbul Tanaka: Japanese Serenity
Situated in the Wonosari district of Malang, Umbul Tanaka transforms a river into a Japanese-inspired haven. Gazebo structures line the riverbanks, and cherry blossom trees (sakura) enhance the Japanese ambiance.
Visitors can also find Japanese-style bridges and inscriptions, creating an immersive experience. Costumes reminiscent of Japan are available for rent, allowing tourists to capture memories that transport them to the Land of the Rising Sun. The natural beauty of the area complements its serene atmosphere.
3. Coban Rondo Labyrinth: Resembling Hampton Court Palace, England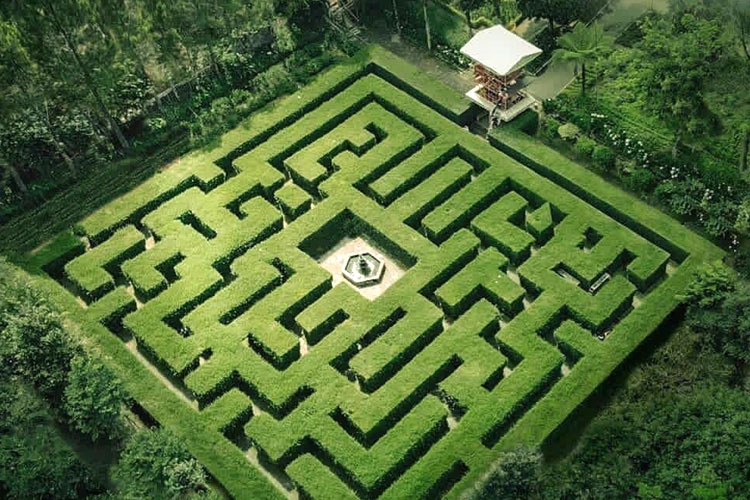 In Pujon, you'll discover the Coban Rondo Labyrinth, which resembles the gardens of Hampton Court Palace in England when viewed from above or captured by a drone. Although it lacks a palace, the maze provides a unique experience as visitors navigate their way through it. While you won't find a royal palace like in England, you can enjoy the thrill of finding your way out of the labyrinthine maze.
4. Rabbit Park Pujon: A Hobbiton Experience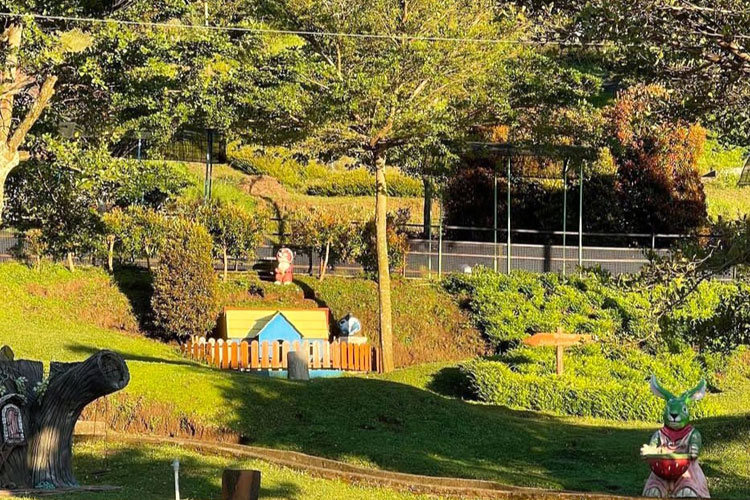 For those who dream of visiting the Hobbiton in New Zealand, Malang offers a similar experience in Pujon. The Rabbit Park in Pujon allows visitors to interact with rabbits, especially appealing to children who love these furry creatures. You can pet and feed the rabbits while surrounded by lush green grass – a paradise for these fluffy animals. Additionally, the park features small Hobbit-like houses, adding to its charm.
These world-class destinations in Malang provide a unique opportunity for both locals and tourists to experience a taste of different cultures and landscapes without leaving Indonesia. Whether you're a resident of Malang or visiting from elsewhere in East Java, these attractions offer a delightful escape to foreign lands right in your backyard.
| | |
| --- | --- |
| Writer | : Khodijah Siti |
| Editor | : Khodijah Siti |