TIMES JAZIRAH, MOJOKERTO – Located in Penanggungan, Trawas, Mojokerto, East Java, Lembah Kecubung is a hidden gem that combines ecological preservation with tourism. It makes the village become a "food sovereignty and organic ecotourism."
Lembah Kecubung literally means as Amethyst Valley in Indonesian. This beautiful destination is known for its stunning natural landscapes and organic farming practices, making it a captivating place to explore.
It lies on 5000-square-meter expanse of land. There were beautiful terraced rice fields winding through the hills with a stunning backdrop of Mount Penanggungan has been transformed into a thriving community of organic farming and sustainable tourism.
The vast area make it has a spacious parking lot that could accomodate around 30 cars and 60 motorcycles. Allowing you and your group to just rest and relax int his place while enjoying the magnificent view or green rice fields.
In Kampung Organik Brenjonk, residents proudly serve dishes prepared from their own kitchen. The rice, side dishes, and sambal are all products of their farm. Even the fish are sourced from local ponds, while the chickens and ducks come from the village's own farms.
Consequently, Desa Penanggungan has become the kecamatan's (sub-district) food granary, producing an impressive 77 tons of rice every month. The place has become a vital hub for organic farming and an educational center for both the local community and students interested in understanding the principles of organic agriculture.
The Local Government Support the Ecological Preservation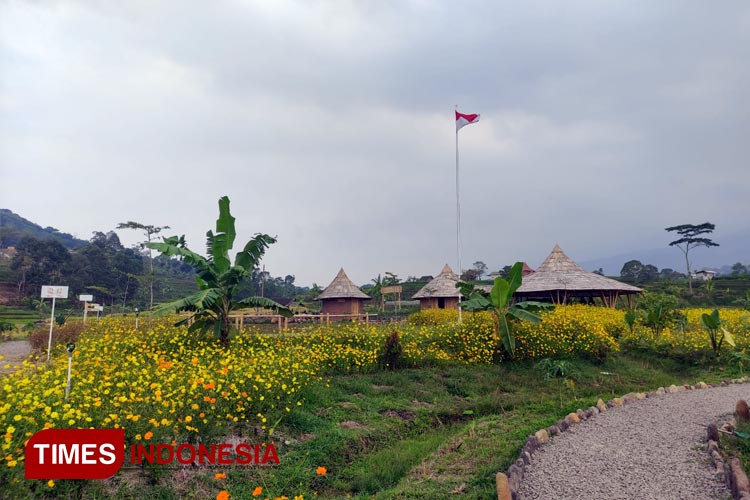 The local government recognized the village's potential and allocated Rp 300 million from the Village Revenue and Expenditure Budget (APBDes) in 2022. The fund was aimed to develop Lembah Kecubung as a role model for organic ecotourism development.
With its unique blend of ecological preservation and ecotourism, LEmbah Kecubung showcases eight natural springs. Not to mention the Biofilic Architecture concept it has.
According to Yunita Afrilia, the Secretary of Desa Penanggungan, Trawas, Kabupaten Mojokerto, they aim to preserve the local ecosystem while promoting agrotourism. The goal is to revive these springs and make them a source of strength for the village.
Lembah Kecubung embodies organic principles with its stone-lined pathways for foot reflexology, fish therapy pools resembling artificial reservoirs, small bamboo huts constructed from locally sourced materials, and a rejuvenating petirtaan (water shrine). For just Rp 5,000, visitors can indulge in unlimited fish reflexology sessions.
Soon, Gubug Lembah Kecubung, a small hut in the valley, will be transformed into an organic restaurant and the heart of Penanggungan Village's agricultural and livestock produce. The restaurant was planned to be opened in October 2023.
Lembah Kecubung is not just a picturesque destination, it's a testament to the harmonious coexistence of ecological preservation and sustainable tourism, offering a valuable lesson in the potential of organic agriculture and ecotourism. (*)
| | |
| --- | --- |
| Writer | : Khodijah Siti |
| Editor | : Khodijah Siti |