TIMES JAZIRAH, BANYUWANGI – Blibis Beach in Banyuwangi, East Java, offers a captivating sunrise view for visitors. The city has been well known to have This beautiful underrated area has its own charm.
Located in the Blimbingsari District, this place is part of the Blimbingsari and Pecemengan beach complex in eastern Banyuwangi. It provides an alternative destination for those seeking the beauty of sunrise in Banyuwangi.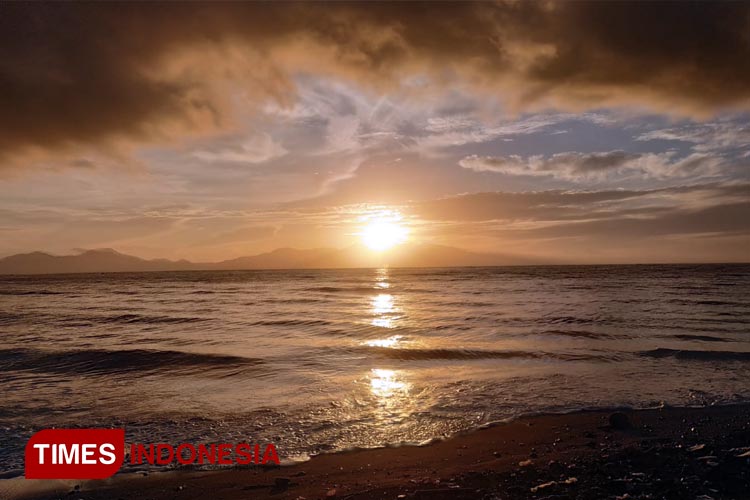 Bathed in the morning sunlight, Pantai Blibis showcases the beauty of the venue located in the "Bali-like" village of Patoman. The village is known for its strong Balinese influence, hence why this place is often used for Melasti ceremonies.
Apart from the stunning sunrise and the shore facing Bali's Island of the Gods, it is characterized by lush vegetation and coconut trees, giving it a tropical beach vibe. Visitors can relax on it, enjoy the gentle sea breeze, seek shade under the coconut trees, and admire the typical waves of the northern coastline.
How to Reach Blibis Beach
To reach this area, visitors need to travel approximately 20 kilometers from the center of Banyuwangi, which takes about 30 minutes under normal driving conditions. For those arriving at Banyuwangi International Airport and heading to this beautiful venue, it is only a 7-minute journey covering a distance of 3 kilometers.
However, finding the location may require some extra effort as it is hidden within a village. In fact, tourists have to pass through a cemetery that is only 50 meters away from the venue to reach it.
It is free to enter the shore but you will need to pay for parking fee of only IDR2000. The area is also renowned for its grilled fish cuisine, similar to Blimbingsari beach, as the coastal community of Blibis is known for its fishing activities.
So, in addition to the picturesque views, visitors can enjoy grilled fish accompanied by fresh coconut water while observing the fishing boats docked in the morning.
"Visit during the dry season. It's the best time to see the sunrise without being obstructed by clouds," said one of the local fishermen on Blibis Beach, Nurhidayat (26/5/2023).
| | |
| --- | --- |
| Writer | : Khodijah Siti |
| Editor | : Khodijah Siti |