TIMES JAZIRAH, JOMBANG – If you are looking for a nice trip to a beautiful natural destination during your vacation with stunning waterfalls, then Wonosalam district of Jombang, East Java, Indonesia is your best bet. Wonosalam offers numerous choices of breathtaking water falling from the high views you can choose from for your next vacation. With preserved natural beauty, these waterfall destinations are often visited by tourists abroad.
Wonosalam which is geographically located right next to the slope of Mount Anjasmoro has an authentic atmosphere, surrounded by various tropical flora and fauna that will spoil your eyes, complete with the fresh, cold air that will refresh both your body and mind. TIMES Lovers can choose one of the destinations that the Wonosalam region has to offer that suits perfectly your preference.
Here are the Best Waterfall Destinations in Jombang Regency
1. Tretes Waterfall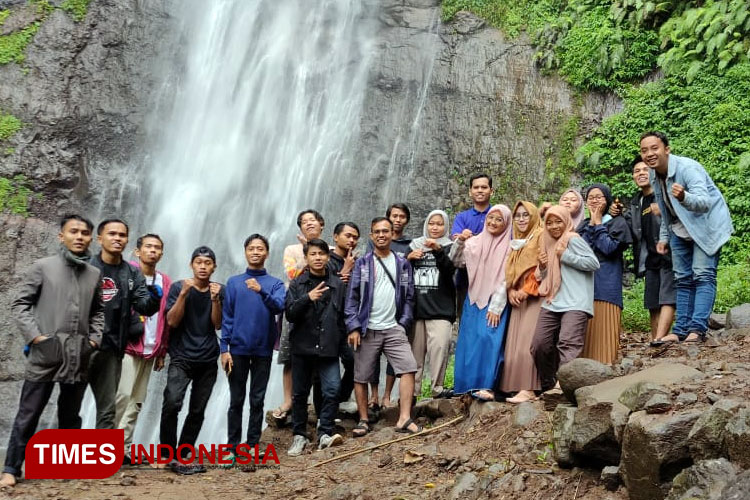 Tretes Waterfall in Pengajaran Hamlet, Galengdowo Village, Wonosalam, Jombang Regency, East Java. (Photo: Rahmadi/TIMES Indonesia)
Tretes is one of the most popular tourist destinations in East Java. Located in Pengajaran Hamlet, Galengdowo Village, Wonosalam, Jombang regency, this destination is often crowded with domestic and foreign tourists. This beautiful attraction has a height of 158 meters and an altitude of 1,250 meters above sea level. It is the highest waterfall in East Java which is also one of the mainstay destinations in Jombang regency. This place is managed by Raden Soeryo National Forest Park in East Java.
To enter this destination and indulge yourself in its beauty, it will cost you only IDR11,000 which already includes complimentary insurance. However, before a visit to this enchanting destination and enjoying the complete experience you need to make sure that you are in a tiptop condition, because it takes approximately 4 kilometers to reach the area from the parking spot.
Although the walk to the main venue is quite rough and long, some locals often pass through the route and offer you a hitchhike that will cost you extra.
2. Sekelip Waterfall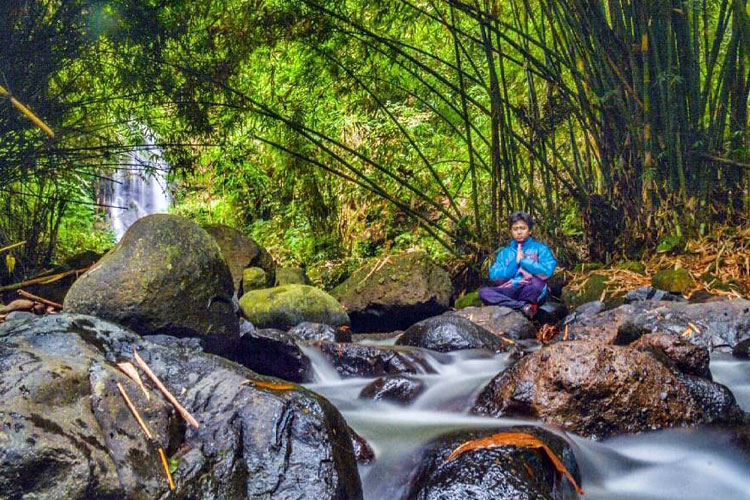 Sekelip Waterfall in Gentaru Hamlet, Carangwulung, Wonosalam, Jombang, East Java. (PHOTO : Instagram @rachmatarif_)
This destination is located in Gentaru Hamlet, Carangwulung Village, Wonosalam, Jombang regency. Although there is nothing special about its height, it has its own unique element that will pamper your eyes nonetheless. Sekelip has two tiers of waterfall that is unique to such destinations in Jombang regency.
However, during your visit to Sekelip, you will need a local to guide you through the entire tour. It is because the entire area is not developed by professionals for tourism purposes, thus, most if not all of its surrounding properties are still original and natural.
3. Selo Lapis Waterfall
Selo Lapis which is more familiarly known as Coban Selo Lapis has particular elements that will indulge you in the comfort provided by mother nature. Coban Selo Lapis is located in Mendir Hamlet, Pangklungan Village, Wonosalam, Jombang regency.
To enjoy the fresh air, leafy environment, and beautiful scenery combination of the mountain, forest, and waterfall, you will need to prepare yourself for a quite long hike. For approximately 30 minutes of hike from the parking area, you will get to see the natural beauty of one of the best view of this long high water running from the top in East Java, Indonesia.
The entry fee is also a steal, you only need to pay for the parking ticket which costs IDR5,000 for a car and IDR 2,000 for a motorcycle, and you can enjoy everything Selo Lapis has to offer.
4. Sanggar Waterfall
This tourist destination is located in Jarak Village, Wonosalam, Jombang regency, East Java. This place is surrounded by woods, which really emphasizes the natural and tropical impression. The combination of the waterfall and the woods makes it the perfect place for photographic enthusiasts and also those who like to take selfies.
However, for your safety, you need to get a local to guide you through the entire visit. This place is currently not open to the public and has not been developed for tourism purposes by professionals. Though, you can enjoy this place for your vacation absolutely free of charge.
5. Pengayoman Waterfall
This place is perfect for travelers and hikers alike, because there are many spots for you to stop every once in a while during your walk through this area, whether to enjoy the view and the natural environment or to have a picnic on a spot that you may like that are available all along the route. Pengayoman Waterfall is located in Bangunrejo Hamlet, Carangwulung Village, Wonosalam, Jombang regency.
This place is also perfect for selfie lovers who like to take photos with scenic natural views. The green scenery is absolutely breathtaking, which is also available at no cost besides the parking ticket fee.
| | |
| --- | --- |
| Writer | : Evan Julianto |
| Editor | : Khodijah Siti |