TIMES JAZIRAH, PASURUAN – Bromo, nestled within four regions in East Java stands as a captivating tourist destination. It allures nature enthusiasts with its awe-inspiring landscapes and vast sandy stretches, truly embodying natural beauty. However, beyond the renowned Bromo lies a realm of equally enchanting alternative tourist spots.
These hidden gems promise diverse experiences, inviting exploration beyond the iconic volcano. From the picturesque landscapes to cultural richness, these lesser-known attractions in the Bromo area offer a remarkable journey for travelers seeking the extraordinary. Here's a glimpse of these unique locales that deserve a spot on every adventurer's itinerary.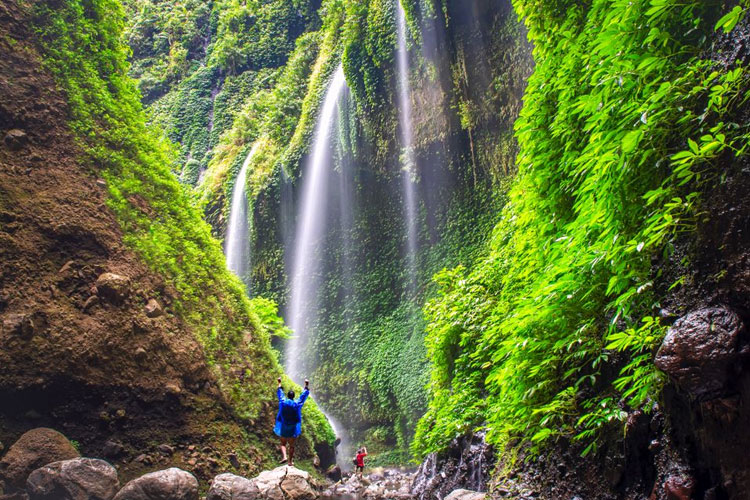 A visitor enjoys the beautiful scenery around Madakaripura Waterfall. (PHOTO: Kemenparekraf)
Top 3 Best Destinations around Bromo
1. Madakaripura Waterfall
Madakaripura Waterfall is a hidden gem in Probolinggo, located in Sapih Village, Lombang District. The waterfall falls from a height of about 200 meters, surrounded by alluring rocks, creating a stunning panorama. According to mythology, Patih Gajah Mada, a great Indonesian figure from the Majapahit Kingdom, once visited this location to meditate.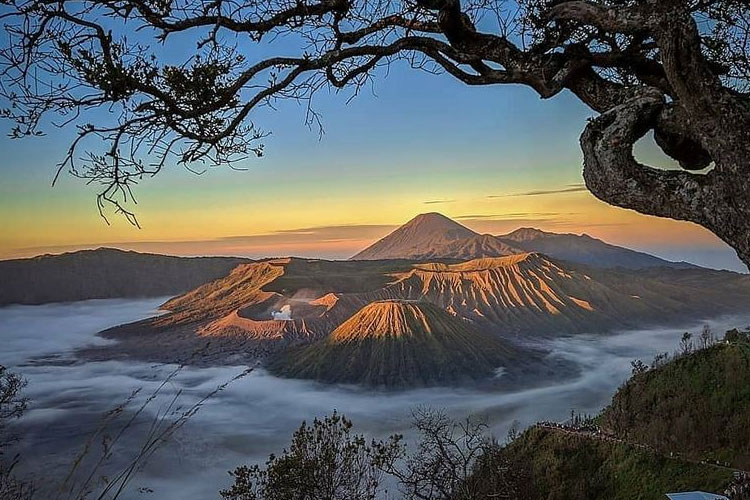 The beautiful view of the crater of Mount Bromo and Mount Batok from Bukit Kingkong. (PHOTO: Instagram/@bukitkingkong)
Visitors can travel around 12 KM from Bromo with private vehicles like motorbikes or cars to get to this location. After that, visitors will buy entrance tickets at the counter and start a 30-minute trekking trip. Therefore, it is advisable to equip yourself with the right trekking gear for a comfortable experience.
2. Bukit Kingkong or Kingkong Hill
The next destination is Bukit Kingkong. This location is a frequent choice for tourists looking to witness the stunning sunrise. Bukit Kingkong offers a direct, unobstructed view of Mount Bromo and Mount Batok, presenting a truly picturesque scene. Visitors often flock here early in the morning to catch this breathtaking sight.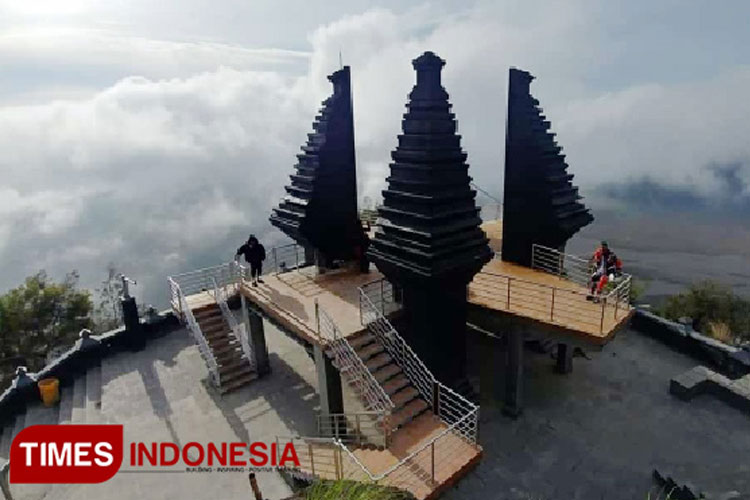 The sea of clouds of Mount Bromo as seen from Seruni point. (PHOTO: TIMES Indonesia)
You can reach this spot via the Mount Bromo routes through Pasuruan or Probolinggo. Access is possible using private motorcycles (private cars are not permitted) or by hiring a jeep, readily available at various points.
3. Seruni Point
The final must-visit destination is Seruni Point. Similar to Kingkong Hill, this spot is a frequent choice for tourists seeking the mesmerizing sunrise spectacle in the early hours. Seruni Point is particularly convenient for travelers who prefer exploring Bromo with their family using private vehicles like cars or motorcycles.
Situated within the Bromo vicinity, Seruni Point offers an ideal setting to witness the breathtaking sunrise. Accessible by private vehicles, it provides a comfortable option for families to experience the wonders of Bromo.
The Bromo Mountain area and its surroundings indeed hold extraordinary natural charm. From the beauty of Madakaripura Waterfall, the mesmerizing sunrise at Bukit Kingkong, to the enchanting Seruni Point, each location has its own allure for visitors.
It's not only for nature enthusiasts but also for families and those seeking a deep sense of adventure. So, don't miss the opportunity to explore the natural wonders in this area and create unforgettable experiences during your adventure in and around Bromo.
| | |
| --- | --- |
| Writer | : M. Ade Nur Alfian (PKL) |
| Editor | : Khodijah Siti |